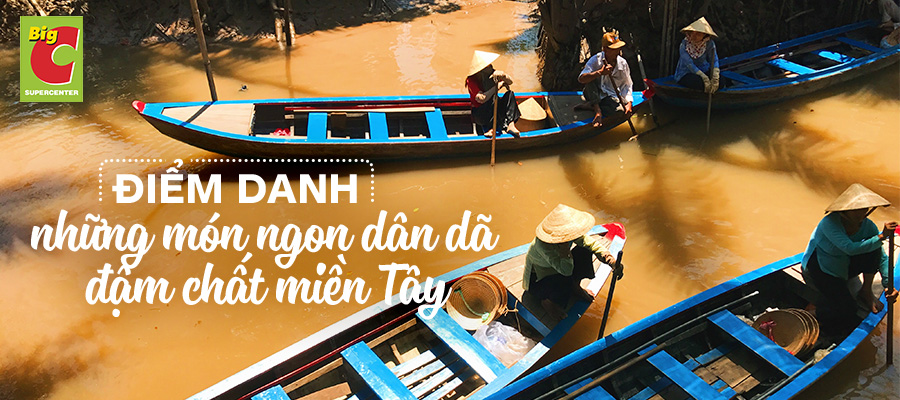 3 signature dishes of Mekong Delta Vietnam
With nearly 500km of coastline, more than 10,000km of rivers and thousands of kilometers of canals, the South-Western region of Vietnam (aka. Mekong Delta Vietnam) contributes 50% of the rice area and 70% of the country's aquaculture area. Endowed with nature, Mekong Delta delicacies have a wealth of rivers, fields, gardens, and the hallmark of a time of unspoiled exploration. Thus, Mekong Delta food has become famous not only for its rustic, flavorful, tasty and authentic cuisine but also for its unique culinary styles that hardly find anywhere else.
1. The extra crispy and savory Banh Xeo (Vietnamese crepes)- Mekong Delta style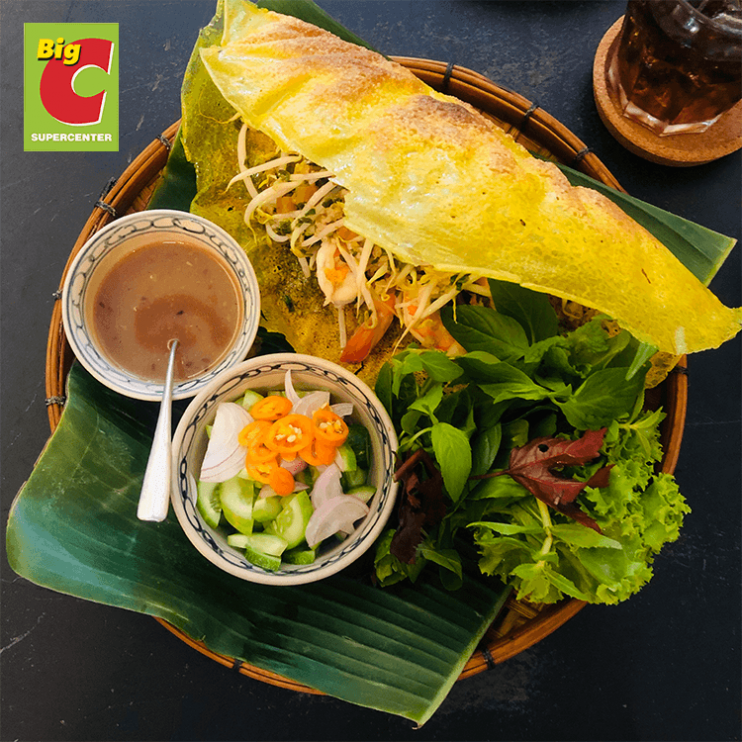 A Vietnamese sizzling crispy thin pancake made of shrimp, pork, seasonal seafood, and veggies.
Prep Time: 40 minutes
Cook Time: 5 minutes/crepe
Servings: 4 people

Ingredients:

- Batter: 400g Big C's Banh Xeo mix, 100ml coconut milk (optional), 1/2 teaspoon turmeric powder (optional), sliced green onions, 1 egg

- Toppings: 300g fresh bean sprouts, 100g mung beans (wash until water runs clear and soak overnight), 200g minced pork belly, 30 peeled and deveined shrimp, mushroom (optional)

Directions:

- In a mixing bowl, mix well the prepared batter with water. Let the mixture sit for about 30 minutes before cooking.

- Season the topping with spices in another bowl, set aside for at least 30 minutes.

- In a non-stick wok pan (dia 30cm- 40cm is preferable), turn medium-high heat, add 1-2 teaspoons of oil, onion, minced pork, and 1-2 shrimps, sauté.

- Pour in some batter and quickly tilt & rotate the wok, add mung beans, bean sprouts, then cover with a lid for 2-3 minutes.

- Transfer to a plate and serve hot with fresh vegetables and fish sauce.

Tip from Big C:

As the egg yolk provides the richness while the egg white helps with the crispiness when fried, remember to add an egg to have richer and crispier Banh Xeo. Plus, the egg yolk also makes the batter yellower without using too much turmeric.
2. The mouth - watering crispy golden fried catfish with ginger sauce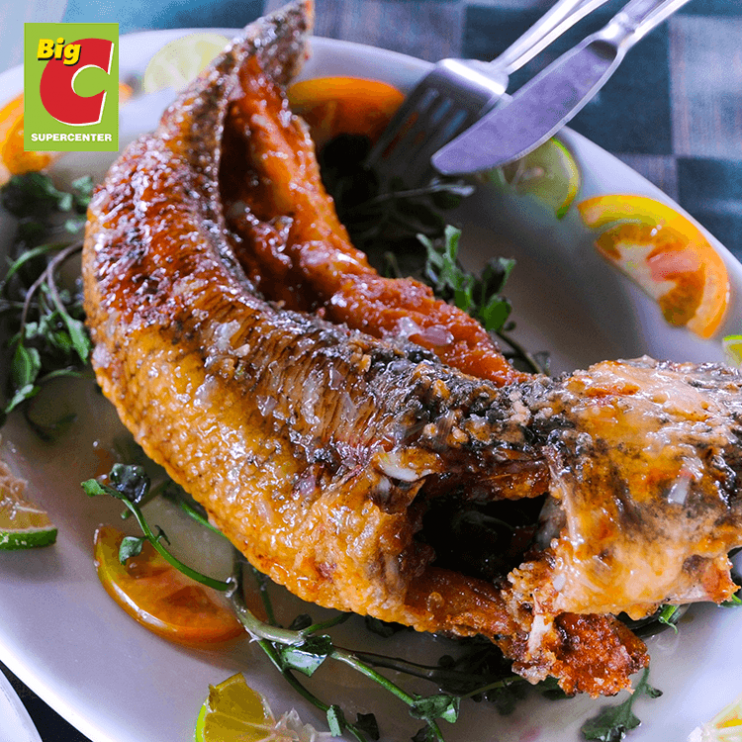 Another Mekong Delta signature dish to tickle your taste buds: spicy fried catfish with sweet and sour ginger sauce
Prep Time: 15 minutes
Cook Time: 20 minutes
Servings: 4 people

Ingredients:

- 700g catfish, wash, pat dry and set aside.

- 1 ginger, smash or slice into thin strips.

- Sauce: 2 teaspoons fish sauce + 1/2 teaspoons sugar + ½ lemon + minced chili and garlic

Directions:

- Deep fry catfish until golden brown on the medium-high, transfer to paper towels to drain.

- Mix the sauce + ginger well, pour this sauce onto fried catfish and stir on the hot pan.

- Serve immediately with steamed rice and fresh veggies.

Tip from Big C: One of the good ways on how to get rid of the fishy smell before cooking catfish is to wash with it vinegar or alcohol. Don't mess with the fish once it starts frying, wait until they are deeply golden on one side, then flip them over.
3. Vietnamese sweet and sour snakehead fish soup- a healthy soup that fills you up
3. Vietnamese sweet and sour snakehead fish soup - a healthy soup that fills you up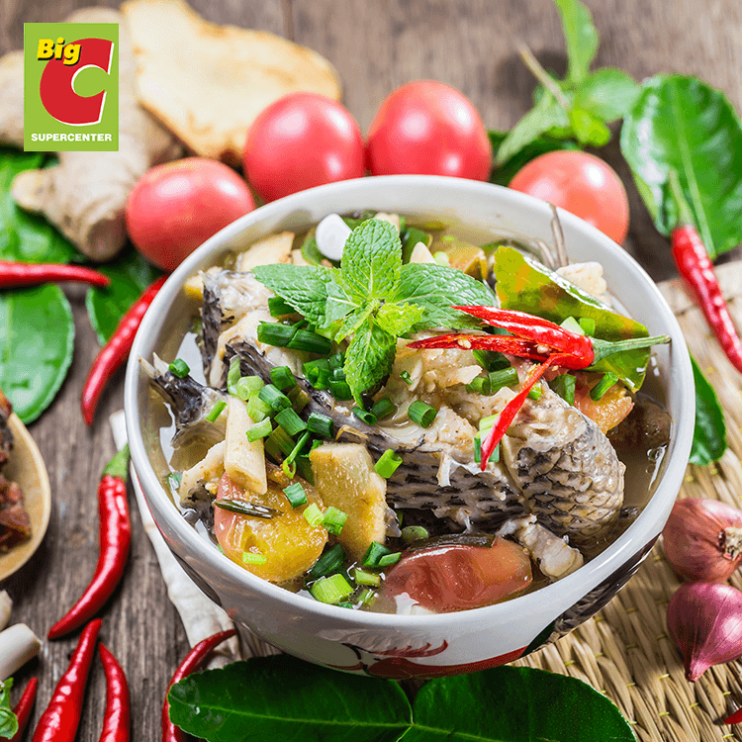 Snakehead fish sour soup with seasonal vegetables such as Common sesban flowers (Sesbania sesban), Neem Tree (Azadirachta indica)
Another Mekong Delta delicacy - Canh Chua Ca Loc- is a tasty, tangy accompaniment for all your meals. The best thing about this soup is that even in its one bowl, so much nutrition is loaded with various types of veggies of your choice.

Prep Time: 30 minutes
Cook Time: 15 minutes
Servings: 4 people

Ingredients:

- 800g fresh snakehead fish, wash with salt to remove the fishy smell, cut into bite-sized pieces, pat dry.

- 1/3 pineapple, 1 tomato, 50g tamarind pulp

- 10 okras, 100g fresh bean sprouts, 3 stalks of colocasia gigantea (Indian taro), 4 cloves of minced garlic

Directions:

- Heat up a pot with cooking oil, add minced garlic and fish in then stir fry. Add 300ml water, cook until boiling, then scoop out and set aside.

- Add tamarind and chopped pineapple to the soup, taste to match with your favorite

- When serving, heat up the soup and add chopped tomato, chopped colocasia gigantea, and cooked fish, garnish the soup with prepared herbs.

- Serve immediately with steamed rice.

Check out more recipes from Big C: 4 Yummy Recipes for Cold and Rainy Days, Vegetarian dish for ghost festival, and 3 easy yet tasty dishes to make on Mother's day.
---