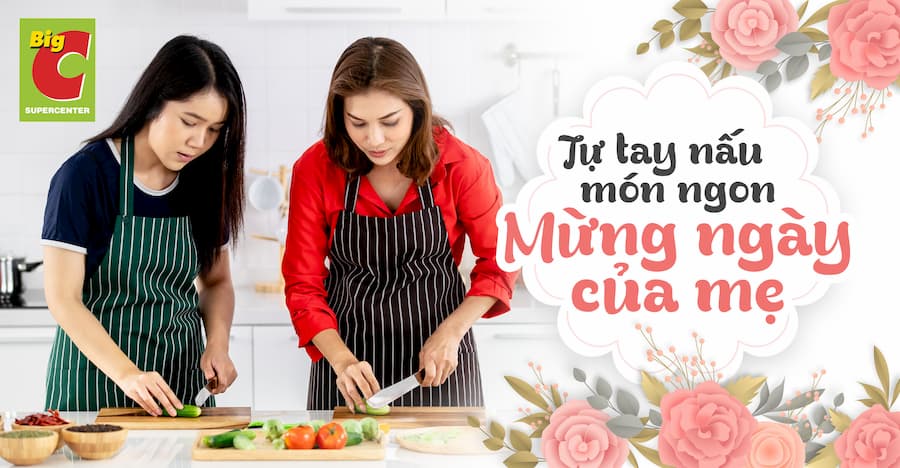 Top 3 simple but special dishes to make your mother's day
Mother's day may sound new to Vietnamese people, but is a popular day in the world. It is a day to honor the mother of the family, as well as motherhood, maternal bonds, and the influence of mothers in society. People usually give presents, cards, having parties,... And cooking by yourself is also a great idea. Here are some recipes you can try at home!

Roasted chicken thighs

Our first recommendation is grilled chicken drumstick with apple flavor. This western-style dish is simple to make but wonderful to taste!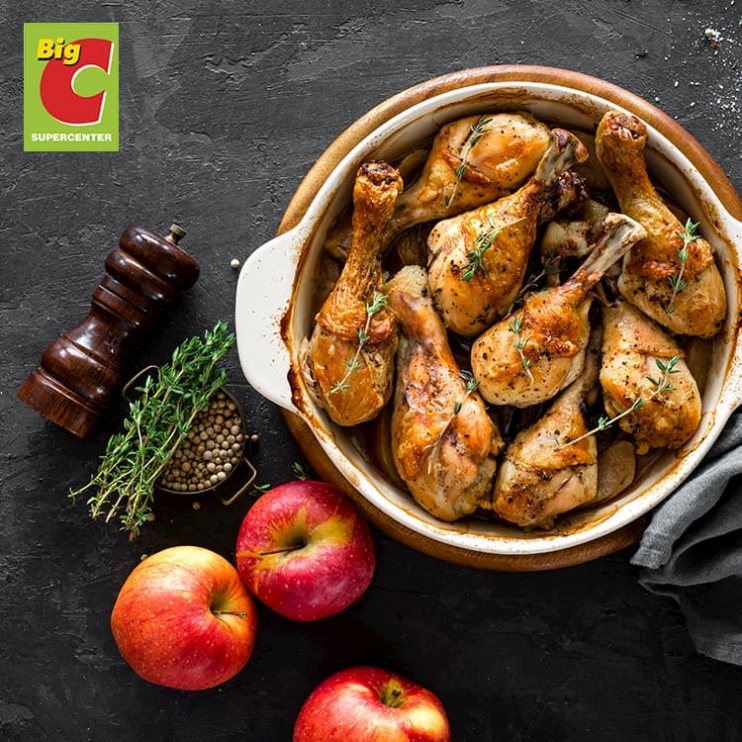 Ingredients
Chicken thighs: 4 pieces

Apple: 3 fruits

Onions: ½ bulbs

Minced garlic

Finely chopped cilantro

2 teaspoons of seasoning seeds

¼ teaspoon of pepper

3 teaspoons of cooking oil

Lettuce, tomato
Directions
Step 1: Chicken thighs are washed, drained and crossed a few lines, then marinated for about 15 minutes with seasoning seeds, pepper, cooking oil, garlic, and cilantro. Wait until the spices absorb into the chicken.
Step 2: Quickly bake the chicken in the oven at 230 degrees Celsius for about 10 minutes.
Step 3: Add the apples, onions (while the chicken thighs are on top) in the oven. Adjust the heat to 170 degrees C and bake for about 30 minutes.
Step 4: Served with some lettuce and tomatoes. The dish will taste better when you eat it with salt and pepper and some fresh bread.

Salmon with lemon cream sauce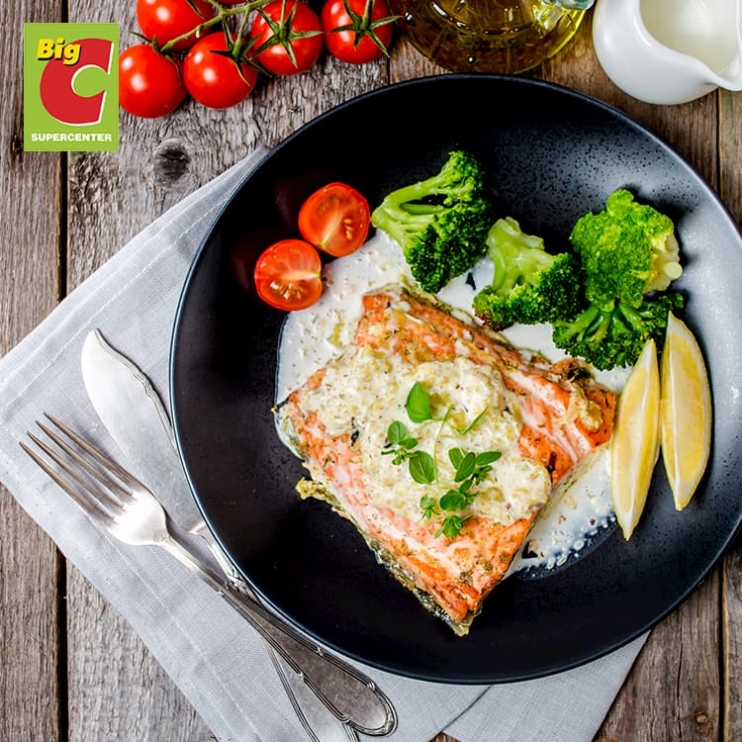 Such a great dish for salmon lovers! If your mom is, please do not hesitate to try such a nutritious, easy-to-make recipe.
Ingredients
200 grams of salmon

1 tablespoon fresh cream

1 teaspoon butter

1 fresh lemon

1 teaspoon cornstarch

1/2 teaspoon salt

1 teaspoon olive oil

½ teaspoon of pepper

Carrots, potatoes, bell peppers and rosemary leaves
Directions
Step 1: Marinate fresh salmon with 1 teaspoon of salt, ½ teaspoon of pepper, 1 tablespoon of lemon juice for about 15 minutes.
Step 2: Add 1 teaspoon olive oil and butter on hot pan. Wait until they are melt. Afterwards, add peppers, potatoes, carrots and cook it well, then add 1/2 teaspoon of salt.
Step 3: Add a mixture of fresh cream, lemon juice, sugar and vegetables. Wait for the mixture to boil, then turn off the heat.
Step 4: Put another pan on the stove, add a little butter and fry the salmon slices until they turn golden. Remember not to turn the fish so many times as they may crushed.
Step 5: Serve with some lemon cream sauce and fresh rosemary leaves.
Tips: Fry salmon at 220 degrees Celsius for 10-15 minutes to make the fish soft and sweet without being dried. Creamy salmon can be used with chips or bread!
Strawberry butter salad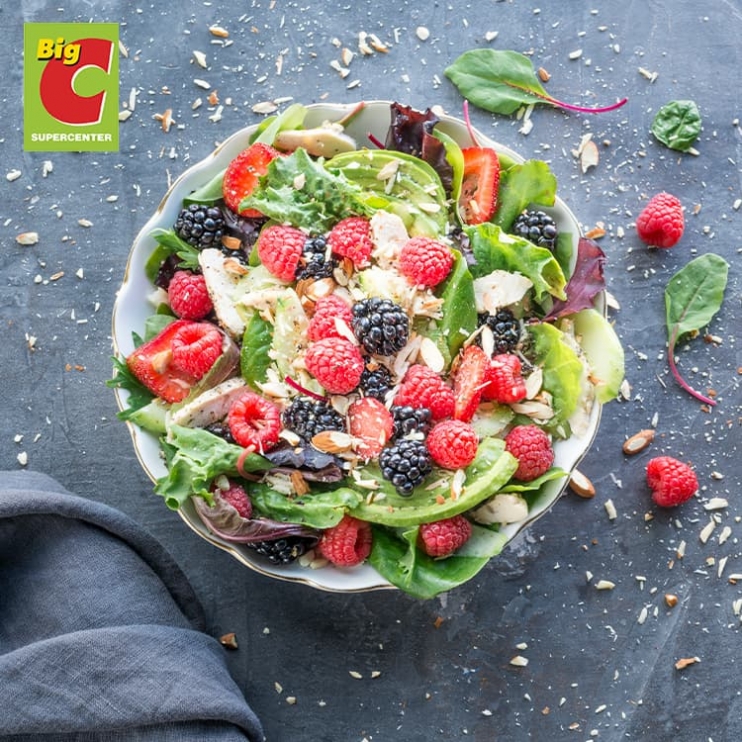 If your mom loves veggies, strawberry butter salad is a great choice! It provides vitamins, fiber which is really good for the heart and body!

Ingredients
¼ teaspoon olive oil

8 teaspoons sugar

8 teaspoons of honey

2 teaspoons vinegar

2 teaspoons of lemon juice

¼ spoon of salt

2 ripe avocados, 20 strawberries, Lettuce
Directions
Step 1: Wash all fruits and veggie thoroughly then cut into bite-sized pieces.
Step 2: Add ¼ teaspoon olive oil, 8 teaspoons sugar, honey, vinegar, lemon juice, salt to the fruit and veggie. Mix them well.
Step 3: Serve with some favorite sauce and enjoy the dish.
Here are some simple but tasty recipes that Big C hope you can easily try at home! Please do not forget that the freshness of food plays a very important part of your success! Wait no more and go to Big C now as we are so ready to provide all the things you need. Hope you and your family can spend a meaningful and memorable Mother's Day together this year!
---