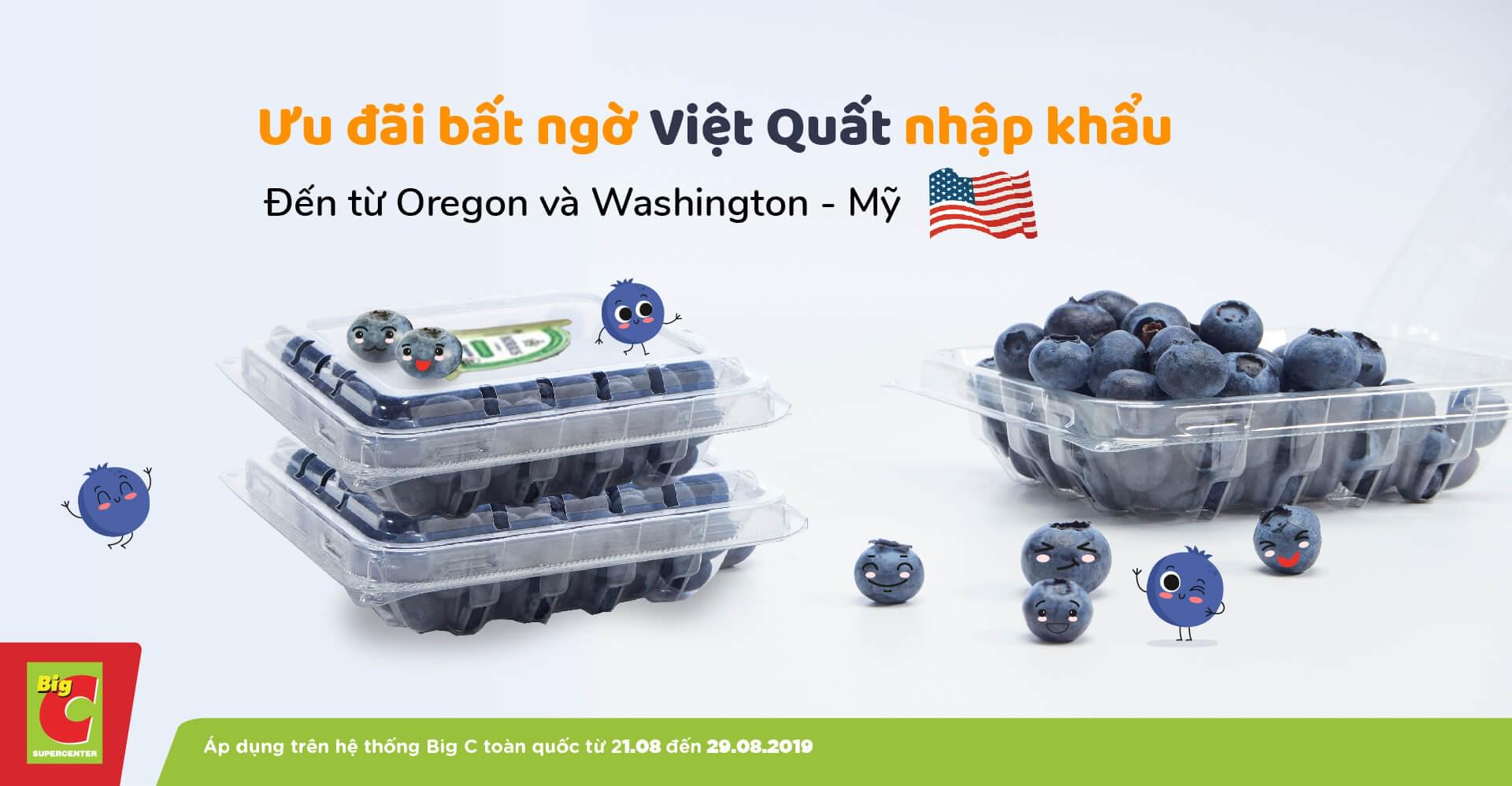 Delicious blueberries imported straight from the US - only at Big C!
Upon hearing any mention of blueberries, many would imagine an expensive and delicious fruit packed with so much nutritional value. As the fruit enters its season in the US, Big C will bring to you delicious imported blueberries at very competitive prices.
The benefits of blueberries? Where to buy cheap blueberries?
The benefits of blueberries
Blueberries are a kind of berry which bears a deep purple color, along with a mild sweet taste and an aromatic fragrance. Blueberries contain lots of water, fibers, and vitamins, making them a very healthy commercial fruit.
Eating the right amount of blueberries a day will boost your immunity system, improve your memory and your cardiologic health, prevent cancer, and boost your eyesight.
Where to buy blueberries at low prices?
Wishing to give shoppers the best possible price, Big C has imported blueberries directly from the US at the price point of 47,000 VND/package 125 gram from 21/08/2019 to 29/08/2019.
Furthermore, on the 24th and 25th of August, when coming to any of Big C's 19 stores, you will get the chance to try out delicious American blueberries on the spot, free of charge!
Location:
Northern Vietnam: Thăng Long, Long Biên, Garden Mall, Hạ Long, Hải Phòng, Hà Đông.

Central Vietnam: Đà Nẵng, Nha Trang.

Southern Vietnam: Miền Đông, Thảo Điền, An Phú, An Lạc, Gò Vấp, Nguyễn Thị Thập, Dĩ An, Bình Dương, Đồng Nai, Cần Thơ, Đà Lạt.
*Even better, for each receipt with more than 3 packages, you will receive a beautiful detox tumbler.
Norris Farm - The top supplier for US-imported blueberries
Located in Southern Oregon in the Umpqua valley, Norris blueberries farm was founded in 1976. Thanks to the perfect climate and the abundance of water, the farm has been producing fresh and juicy blueberries since its founding.
After being harvested, the blueberries will be immediately preserved to bring only the best products to customers.
This farm is also Big C's main blueberries supplier. Every week, Big C will receive two new shipments to make sure that the products you receive you will always remain fresh.
Hurry to Big C and get your US-imported blueberries at a very discounted price!
---