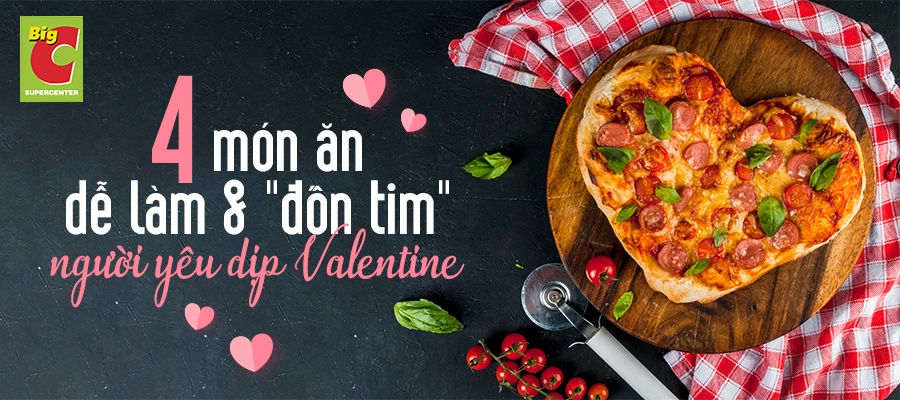 Top 4 simple but delicious recipes for that special someone on Valentine's
Every year on February 14th, people honor their love for one another by spending time together, expressing their love and care. It is the best time to impress your significant one by dedicating some unique Valentine's gifts. How about a heart-made meal? It's nice to spend a little quality time with the love of your life (or someone you're hoping could possibly become the love of your life).

Treat your loved one to a gourmet dinner at home with any one of these romantic dinner ideas. It's a simple way to show how much you care and how well you know your way around the kitchen. Try out these recipes below.
1. Sweet chocolate-dipped strawberries for lovers
There is something so special about making a homemade gift. You don't actually need any fancy equipment to make chocolate-covered strawberries - a fun and adorable idea for a Valentine's Day gift.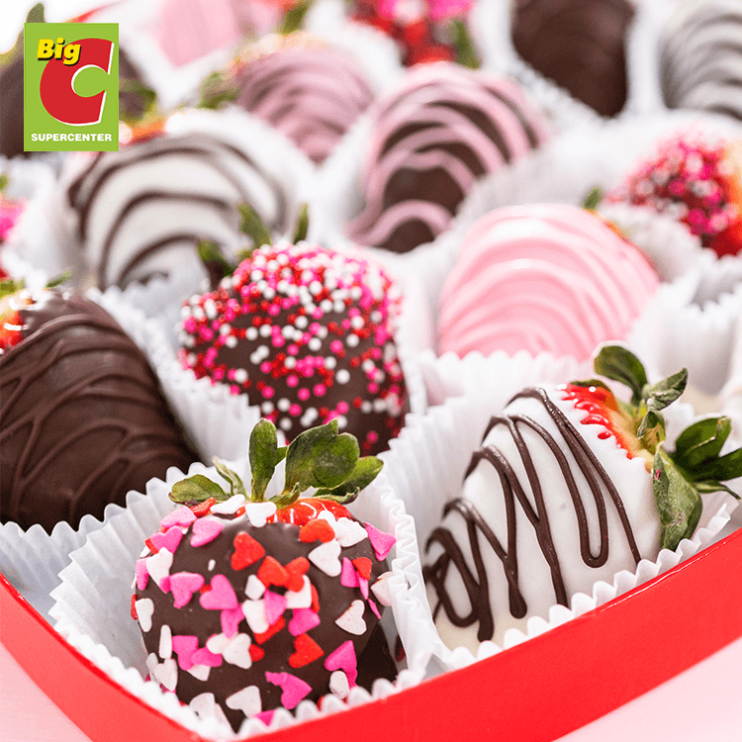 Yummy chocolate dipped strawberries for couples
Ingredients:

- 8-12 fresh and giant strawberries with greens on
- 600g white, dark, and pink chocolate
- 6 tbsp cooking oil
- Waxed paper
- Sprinkles and peanuts (optional)

Instructions:

- Make sure strawberries are completely clean and dry
- In three separate small microwave-safe bowls, melt 300g of each color chocolate with 2 tbsps of cooking oil for about 30 seconds each, stir, repeat until smooth.
- Dip each strawberry in melted chocolate to create a base ( then dip in sprinkles or chopped peanuts if desired)
- Set strawberry on a baking rack or waxed paper to cool and harden
- Dip a fork in the melted chocolate and drizzle over an alternating shade( white drizzled over dark, etc)

You can surprise loved ones with a chocolate strawberry bouquet like the picture shown below.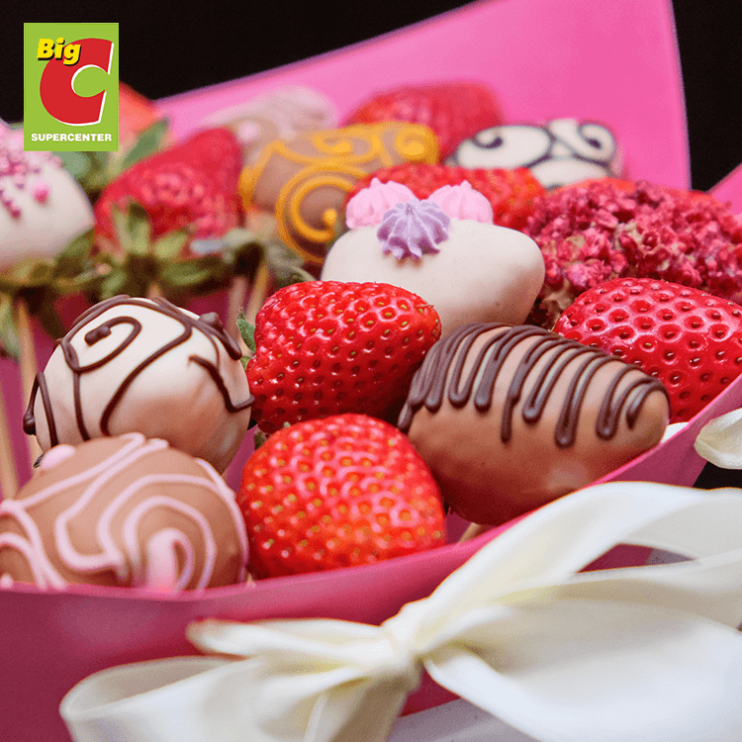 A cute bouquet of chocolate-covered strawberries for her on Valentine's
2. Easy and romantic Valentine's Breakfast

Anyone can cook dried eggs, but this cute and tasty dish will show just how much you care. It's so lovely if you say with your loved one: "I love you like heart-shaped eggs!"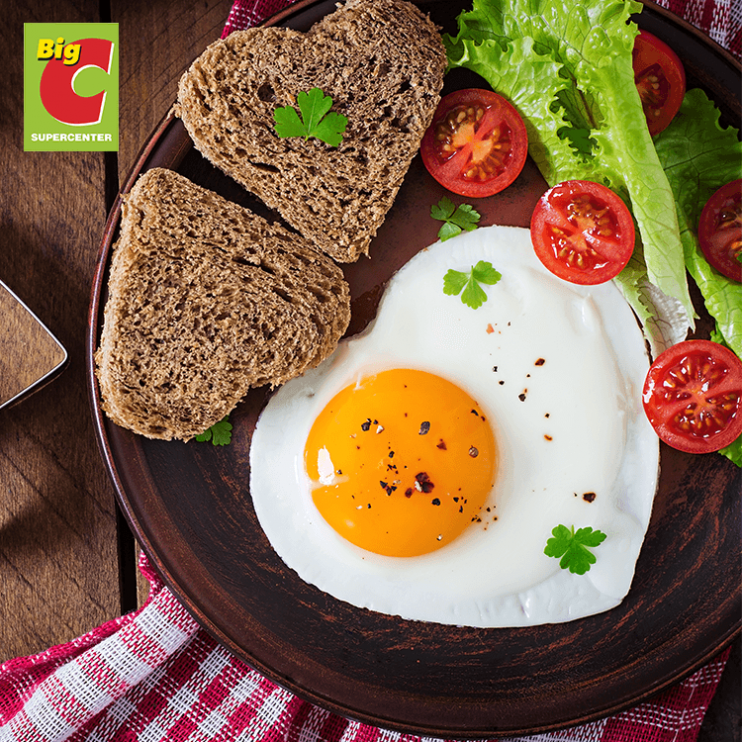 Quick and easy breakfast for your loved one on Valentine's day
Ingredients:

- 4 fresh eggs
- Heart-shaped metal cookie cutters
- 2 slices of bacon
- Salt, pepper, and green onion

Instructions:

- In a frying pan, cook the bacon about 5-6 minutes each side, transfer to a paper towel-lined plate.
- Heat up the pan with oil, butter then place your heart-shaped cookie cutter (the smooth side) into the center of the pan
- Carefully crack the egg into the cookie cutter, press down a bit on it for a few seconds to keep the egg from running out the bottom.
- Cover with a lid and cook on low for 3 minutes.
- Season with salt, pepper and green onion to taste and serve immediately.
3. "Spice-up" your relationship with heart-shaped onigiri rice balls and chopped pepper steak
Turn a few ingredients into this one-skillet meal so you can spend less time cleaning up, and more time enjoying date night.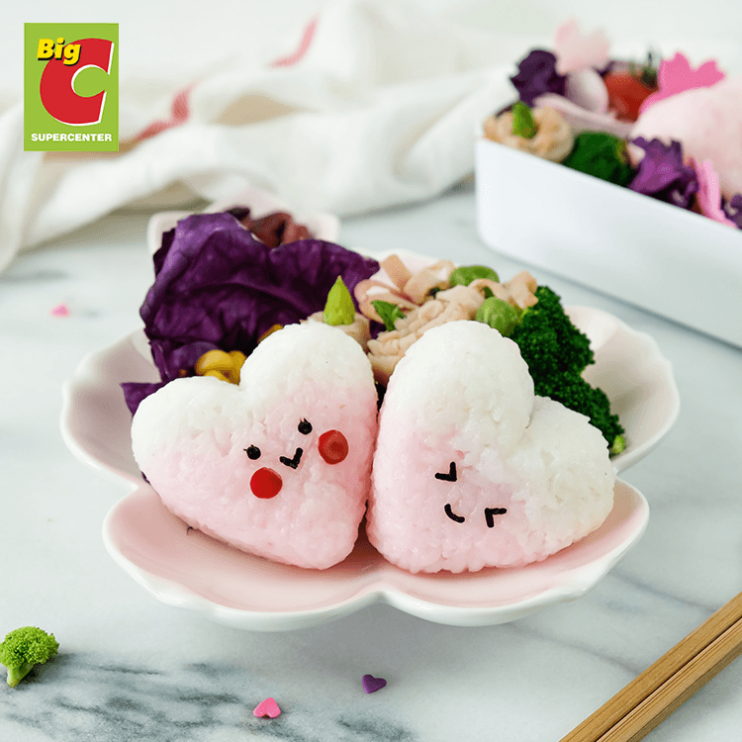 Cute but tasty heart-shaped Onigiri for Valentine's
Ingredients:

- Rice ball: sushi rice, dried seaweed flat sheets, heart-shaped onigiri mold
- Chopped Steak: 400g cube beef sirloin, 3 tablespoon butter, finely chopped clove garlic, onion, and bell pepper,
- The pepper sauce: cornstarch, sesame oil, minced ginger, sugar, soy sauce
ground pepper

Instructions:

- Onigiri (rice balls): put in the rice into the wet heart-shaped mold and set the pushing lid in the container and strongly press it down. Flip over, and press on the bottom to release the onigiri. Decorate with dried seaweed.
- Pepper steak: In a medium-sized skillet or wok over medium-high heat add 1 tbsp butter, add bell peppers and chopped onion, stir until tender, set aside on a plate. Turn the heat to high and add cubed beef with 2 tbsp butter, add the sauce peppers. Simmer for 2-3 minutes until the sauce starts to thicken. Serve hot with rice balls.
4. Healthy raspberry Greek yogurt parfait for Valentine's dessert
Raspberry Greek yogurt parfait makes a great addition to Valentine's meals with your favorite person. This dessert looks elegant with barely any effort.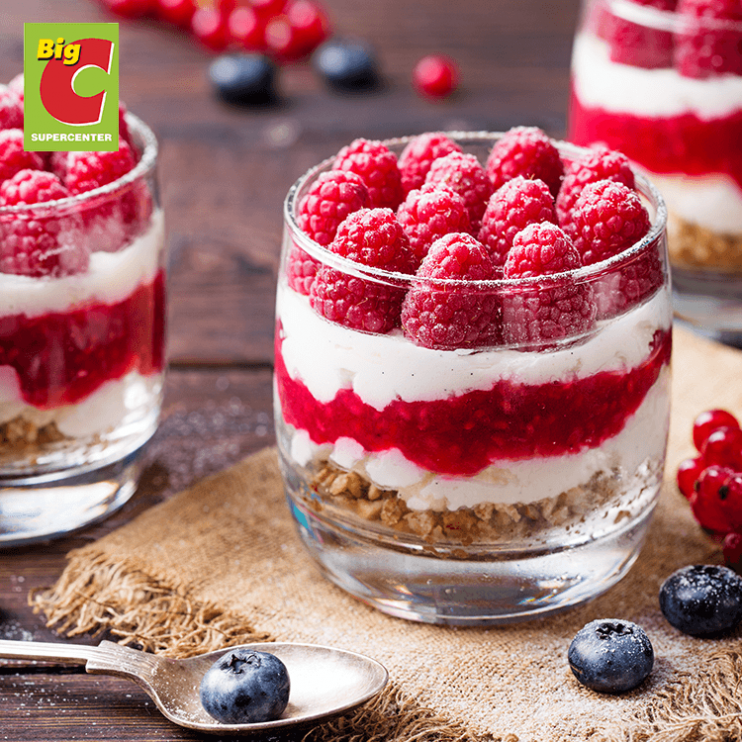 Raspberry parfait - a sweet and sour Valentine's dessert

Ingredients:

- 200g fresh raspberries
- 50g dried fruits (optional)
- 50 g chocolate granola
- 6 tbsp strawberry jam
- Greek yogurt
- Mint leaves for garnish

Instructions:

- Layer the yogurt, dried berries, strawberry jam and chocolate granola in glasses
- Simply garnished with fresh raspberries and mint leaves on top

Note: Best assembled shortly (10-15 minutes) before eating so the granola stays crunchy.

These adorable heart-made delicacies are especially popular gifts for lovers of all time. Check out the latest promotion this Valentine from Big C here.
---