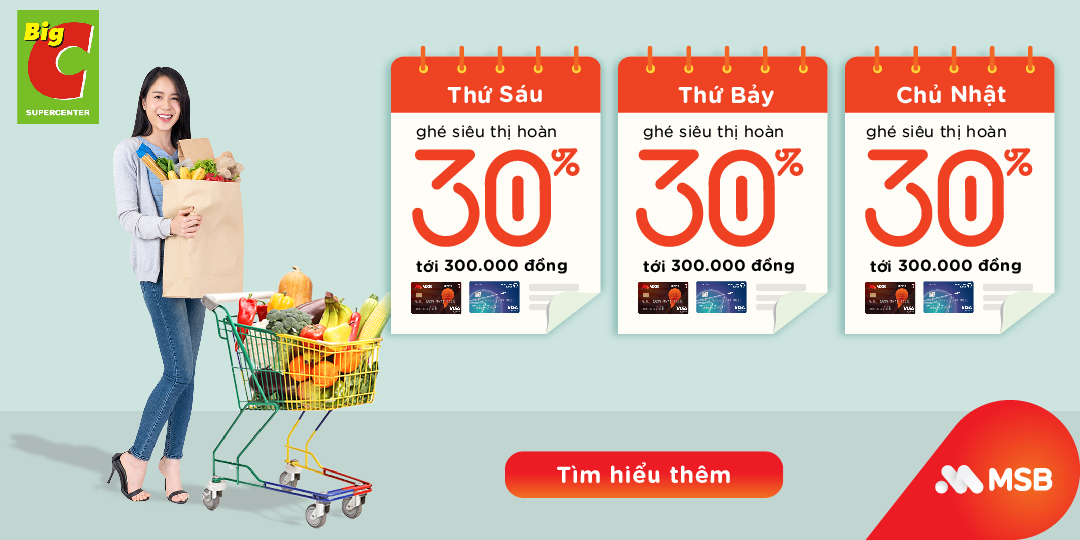 SUPER DEAL for MSB Cardholders
Hey ya, good news for MSB Cardholders here! MSB Bank has a big promotion program:

- 30% refund (maximum 300.000 VND) for cardholders when paying with MSB International Card. Applicable for purchase invoices from 800.000 VND at Big C nationwide. Not applicable for online shopping transactions.

- Each cardholder is entitled to a one-time refund (based on customer CIF number) when shopping at Big C during the promotion period.

Time application:

- The following days: Friday, Saturday, Sunday, from 17/04/2020 to 26/04/2020: 17/04, 18/04, 19/04, 24/04, 25/04, 26/04 or until the end of the promotional budget.

Applicable entities:

- MSB International Credit Cardholder has 6 digits starting from: 430389; 412189 (called MSB International Card)

Card type applicable:

- MSB international card has 6 starting numbers: 430389; 412189

Procedures for receiving awards:

- Within 30 working days after the end of the program, MSB will announce a list of customers to be refunded.

- The MSB will give the refund to the Card account of the customer within the next 15 working days from the date of announcing the list of customers who are refunded in the program.

Now come to Big C and enjoy this great promotion!
---