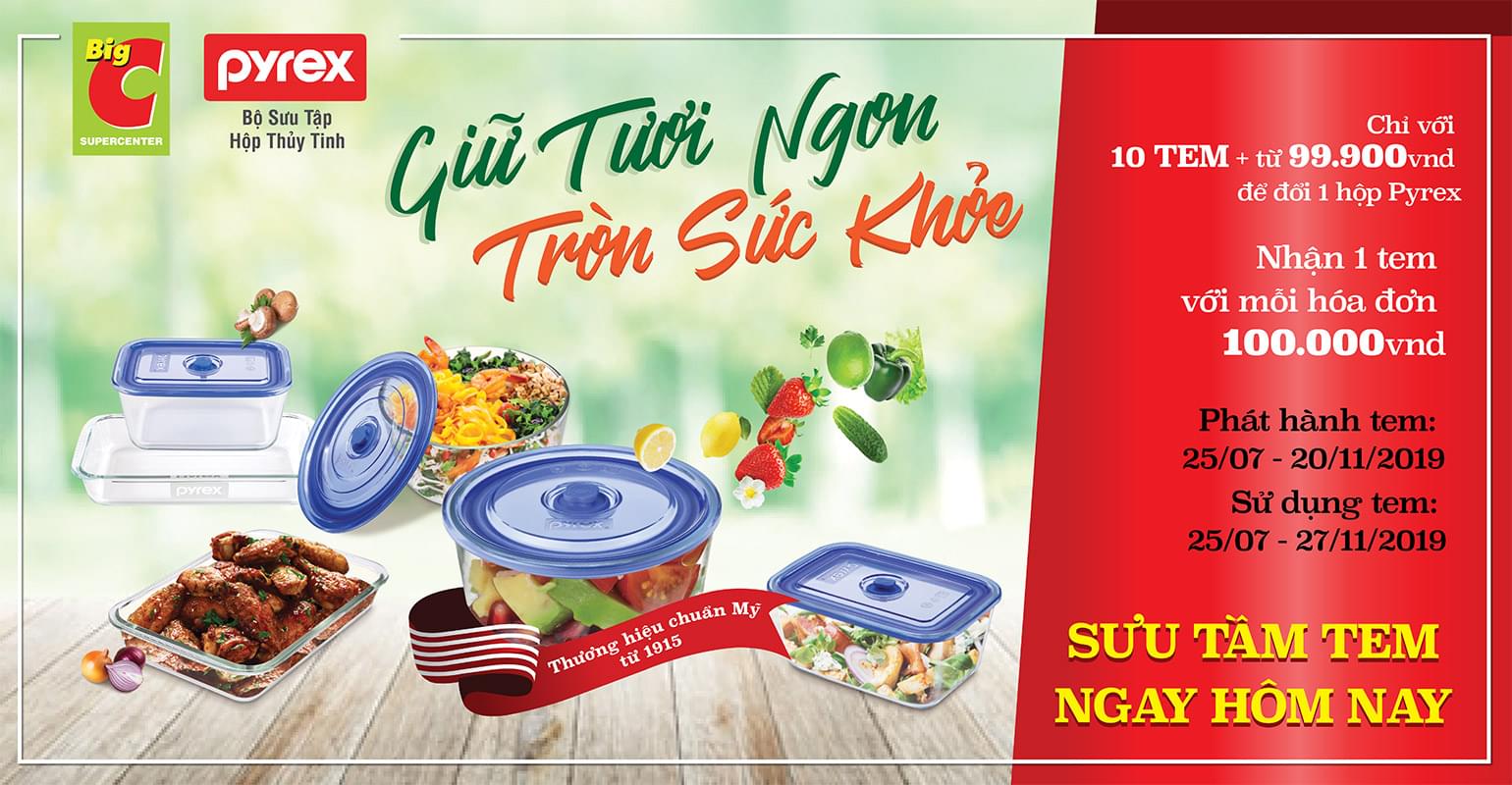 Collect stamps and stand a chance to win a container from Pyrex, a 100-year-old brand from the USA
>>>Exclusively at Big C:
Buy authentic American containers at a reduced price. The price gets even lower with Big Xu.
In continuing its efforts to bring world-class products to Vietnamese consumers at attractive prices, Big C is now a stockist of Pyrex - a high-quality container brand from the USA which is more than 100 years old. If you wish to perfectly preserve the freshness of your food and to protect your family's health, this collection of 6 different kinds of glass containers will be the perfect choice for you.
The brand Pyrex
Appearing for the first time as a baking tray in 1915, Pyrex was the first brand to champion for using glass containers instead of plastic ones in the kitchen in the USA.
In 1919, Pyrex's sales figures reached 4.5 products. The brand has quickly developed many new shapes and sizes to meet the demands for using glass containers for cooking and preserving foods.
Every Pyrex glass product has been subjected to rigorous design and research processes to bring you plenty of conveniences while cooking.
Collecting stamps and buy Pyrex containers: KEEP YOUR FOOD FRESH - KEEP YOUR FAMILY HEALTHY
1. How to collect the stamps:
For each 100.000VND on your purchase bill, you will receive 1 stamp. When you have collected 10 stamps, you will stand a chance to buy Pyrex containers up to 80% cheaper than on the market.

The price will go down even further if you own a Big Xu card.

Each card can only collect stamps once. Stamps accumulated from other cards will not count.
2. Period of circulation and of use for the stamps:
Period of circulation: 25/07/2019 - 20/11/2019.

Period of use: 25/07/2019 - 27/11/2019.
3. Return policy:
Purchased items are non-returnable. Please check before you make the purchase (packaging, label, product).

Purchased items are only returnable in the event of errors on the manufacturer's end. Items are especially non-returnable in the case of damage caused by misuse.

In case you encounter an error, please contact our Customer Service counter to check and initiate the return procedure.
High-quality Pyrex containers
Pyrex containers collection is on sale exclusively at Big C. With an authentically American design and style, all products are made from Borosilicate, a heat-resistant material, and designed to be completely transparent to help you observe the food throughout the cooking process. Even better, the lid's firm design allows it to prevent overflow and to preserve the original flavor. The product has two shapes, fitting for different uses.
Khay thủy tinh không có nắp: Dùng để nấu và hâm nóng thức ăn. Dùng được cho cả lò vi sóng, lò nướng.
Hộp thủy tinh có nắp: b

ảo quản thực phẩm sống và chín.


*
Hộp hình chữ nhật
Quickly come to Big C, collect as many stamps as possible, and bring home a high-quality Pyrex container, made in the USA!
---