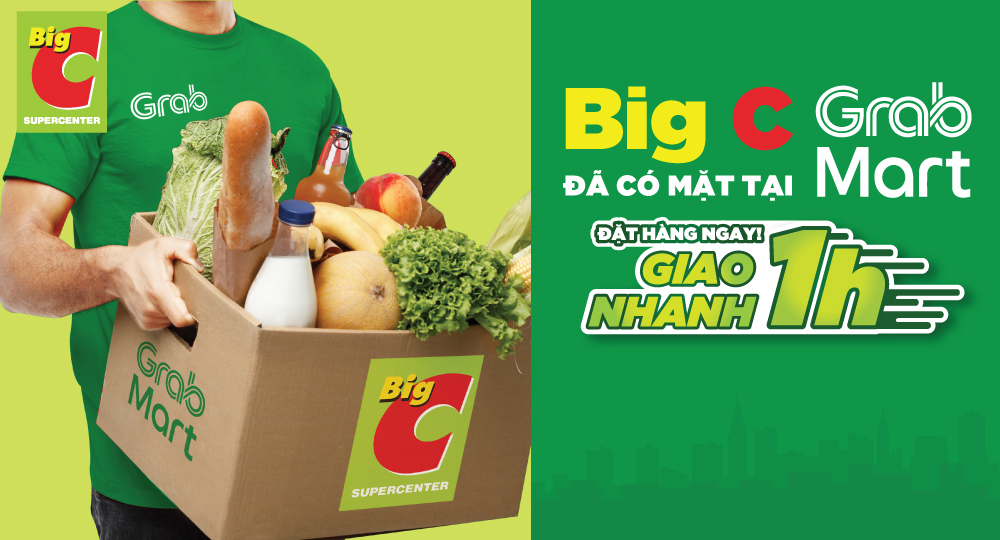 Big C launched 10 new stores on GrabMart
Big C Supercenter launched 9 stores in Ho Chi Minh City, 4 stores in the South, 7 stores in the North on GrabMart, bringing the total number of Big C stores is 20.

Ho Chi Minh City:

- Big C An Lac
- Big C Mien Dong
- Big C Go Vap
- Big C Phu Thanh
- Big C Truong Chinh
- Big C Nguyen Thi Thap
- Big C An Phu
- Big C Thao Dien
- Big C Au Co

The South:

- Big C Binh Duong
- Big C Di An
- Big C Dong Nai
- Big C Tan Hiep

The North:

- Big C The Garden
- Big C Ha Dong
- Big C Le Trong Tan
- Big C Long Bien
- Big C Nguyen Xien
- Big C Thang Long
- Big C Me Linh

From now, Big C customers can search and buy foods as well as necessities easily on GrabMart by following these steps:

Step 1: Open the "Grab" application and select "Mart". If you haven't installed the application on your mobile device, go to Apps Store or CH Play to download Grab.

Step 2: Choose "Big C".

Step 3: Find and select available products.

Step 4: Order and wait for the delivery.

Big C and GrabMart guarantee to bring fast delivery service with the motto "Order now – Receive in just 1 hour" to make online shopping faster and more conveniently for customers.

Big C is expected to continue to launch more stores from other areas to GrabMart in the near future. Stay tuned to learn more!
---